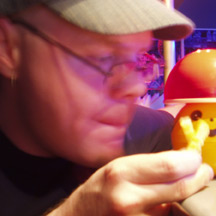 Someone Else
Microcosm Discography:

Someone Else is Philadelphia's Sean O'Neal, co-founder of the Foundsound/Unfoundsound, Tuning Spork, and Fuzzy Box record labels. O'Neal's production skills are garnering respect among internationally renowned DJ's and labels alike, as reflected by his releases on Musik Krause, Tuning Spork, Remains, Hard to Swallow, Microcosm, Foundsound, and others. A stalwart of Philadephia's deep house, minimal techno and experimental communities, O'Neal has also co-organized various events, hosting performances by Magda, Matthew Dear, Sammy Dee, Geoff White, Jeff Milligan, Dan Bell, Dinky, and many others. His current occupations focus on running Foundsound and Unfoundsound records.
Since 1994, O'Neal has been the force behind his ever-evolving, kitsch-driven electro-pop outfit, Flowchart--releasing dozens and dozens of albums, singles, EP's and comp tracks on different labels from all over the world.
He also holds several DJ residencies in Philly and continues to spin and play live all around the country and world -- in places such as Russia, Argentina, Chile, Uruguay, Spain, England, Switzerland, Germany, France, Italy, Slovakia, Canada, and most major American cities.
When he's not making music or touring around the world, he writes part-time as a journalist for various music magazines and newspapers.